Want to go up somewhere high and take a look around? Here are some great places to do that at.
Port Plaza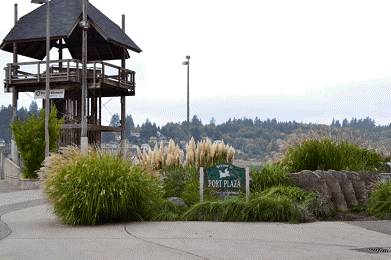 Here is a lookout tower that's free for anyone to go up. From up there you can see all of Olympia's port.
Washington Supreme Court Building

Right next to the Capitol buiding is the Supreme Court Building. On the back side of that building is a parking lot with lovely views of capitol lake and downtown.
Thurston County Courthouse
This building is up on a hill, and behind it is a parking lot which overlooks capitol lake and the capitol building.
Tumwater Overlook Point Park
This park on the top of Tumwater hill overlooks all of Olympia.
Madison Scenic Park
A park on the Eastside which overlooks downtown. You can also walk up to the water tower just next to this park and view the town from up there.
Swantown Marina
There's a big parking lot on a hill at Swantown Marina. Look for a big radio antenna tower which is in the middle of the parking lot. Views from this parking lot are panoramic allowing you to see Budd Inlet and the marina.
Woodard Bay
Northeast of Olympia, from here you can see views of Puget Sound.
West Bay Park
A park on the western side of Budd Inlet overlooking port of Olympia with views of the capitol building.
---